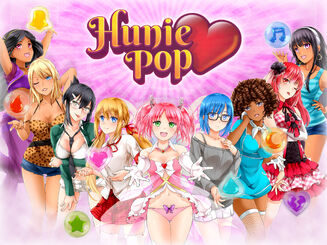 HuniePop is an adult hybrid tile matching puzzle game/dating simulator that was developed and published by HuniePot. It was released January 19, 2015. The game was funded through a Kickstarter campaign and received over $50,000. HuniePop is available in two different versions, an uncensored version available via Humble Bundle and MangaGamer, and a censored version via Steam.
Plot
The player (either male or female) starts out in the Bar & Lounge in the beginning of the game. There, you will meet Kyu, a magical love fairy (she appears in her human disguise) who will supposedly turn you into a "walking babe magnet." You leave the Bar & Lounge, come back to your home when Kyu (as a fairy) comes back and shows you the basics of dating and meeting girls. From there, you will progress through the game going on dates, and meeting girls.
Characters
*= The character must be unlocked.
Alpha Mode
After taking all of the twelve girls home, Kyu will present to you a new mode titled "Alpha Mode." This locks the game at the "Hard" setting and each date progressively gets harder and harder. To unlock it, you must give Kyu all of the twelve girls' panties. In this mode, you may choose where your date takes place.
Trivia
Due to the game's general sexual themes, HuniePop has been banned from streaming on Twitch.tv regardless of censorship.
After a surprise poll on HuniepotDev's Twitter account, an image of Lillian was uploaded in the original Huniepop style. This could be a possible teaser for a potential sequel to the game.