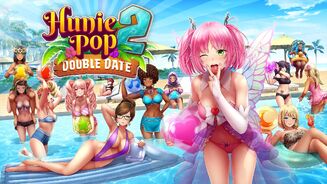 HuniePop 2: Double Date is an adult game that was developed and published by HuniePot, and is the direct sequel to the original HuniePop. You play as the same protagonist, i.e. "You", from the last game. The game was released on February 8th, 2021.
The plot is that there are two cosmic creatures that will be awoken from their slumber by their period and you must awaken them before that happens and please them sexually. To do this, you need to earn fairy wings, which can only be earned by having 3-ways, to make a volcano erupt.
New features
As the name suggests, this game includes exclusively threesomes and double dates.
During the date, the player must switch between each girl and fill both their shared affection meter to complete the date.
Switching between girls uses right-click.
Each girl also has their own stamina and sentiment meters. Moves remain universal.
Like with the first game, you can build up sentiment before going on a date, but you can also build up passion now too.

This can be done by purchasing specific food items from the shop.

Pairings are set for each girl along with their CGs. Each CG can be obtained after two dates with the pairing.
A new stamina feature is added to limit the player to how many moves performed on each girl. When it runs out, the player has to focus on the other girl.

Stamina is regained by +1 every move on the other girl or by matching the new stamina tokens (silver pentagons).
Certain baggage also affect the stamina lost and gained on dates.

Fruit Seeds is added as a replacement for Munie and Hunie after completing each date.
Fruit Seeds can be used to buy smoothies from the store and when given to a girl will level up the traits for more affection of said trait. There are 5 levels each trait.
Shoes are added as another type of unique gift to increase the amount of fruit you would get after completing each date. Each girl has 4 unique pairs of shoes.

Shoes go towards the Style Level. There are 9 levels total.

Unique gifts themselves will increase the max level for passion. There are 9 levels total.
Baggage is a constant effect for each girl that is gradually unlocked as you play. Once it is unlocked, it is a permanent effect.
Each game difficulty uses baggage differently.

Chad / Stacy difficulty dates are not affected by baggage. Average Guy / Girl difficulty only uses 1 baggage each girl per date, and switches between the 3 each girl has. Incel / Femcel difficulty will stack the baggage as you progress.

Date gifts are split up between each girl. 8 in total, 4 for each girl.
Fairy wings are added. The player receives 1 pair of wings after each successful threesome is completed. 24 pairs are needed for Kyu's plan to awaken the Nymphojinn early from their sleep.
There are new questions to ask the girls, mostly what their favorites are. There are 20 different things to ask them.
Some girls share the same interests, and if they are together when you ask one of them a question, the other one will say that it's their answer as well, and also give additional fruit of their type.
Additional post-game content is available after defeating the Nymphojinn.

Some post-game content isn't available on the Chad / Stacy (Easy) difficulty.
Post-game content includes Alpha Mode, Non-Stop Dates, and additional outfits that can be unlocked by purchasing them with fruit.

Alpha Mode starts by default after you defeat the Nymphojinn, and cannot be turned off.
Non-Stop Dates can be accessed by talking to Kyu in your suite.
Each girl receives 3 new Hairstyles and Outfits to unlock. The Hairstyles are unlocked with the girl's least favorite fruit and the Outfits can be unlocked with their most favorite fruit. Hairstyles cost 5, 10, and then 15 fruit. Outfits cost 10, 20, and then 30 fruit. It takes 270 of each fruit to unlock all of the Hairstyles and Outfits.

Additional bonus outfits can be unlocked by entering a code.
Gallery
Characters
So far, 13 characters have been revealed for this game while it's been confirmed that HuniePot "set a goal of 12 girls, not counting your favorite love fairy of course." - Kyu via Hunie Direct - Aug 2018 video
There has also been some confirmation that two beings known as the Nymphojinn shall be present.
Name
Occupation
Alias
Species
Birthday
Airport Security
Total freak /

Foreign girl

Human

Unknown (Age 25)

Model
Musician /

Fashion model

Human

Unknown (Age 21)

Trophy Wife
Woman in charge /

High status woman

Human
Unknown (Age 40)
Candace "Candy" Crush
Stripper
Slow learner /

Exotic dancer

Human
Unknown (Age 25)
Denise "Zoey" Greene
Unemployed
Cyber chick /

Weirdo

Human
Unknown (Age 19)
Lailani Kealoha
Hotel Clerk
Innocent girl /

Masseuse

Human
Unknown (Age 23)
Jessie Maye
Ex-Porn Star
Adult actress /

Heavy drinker

Human
January 27th (Age 38)
Kyu Sugardust
Love Fairy
Fairy
August 3rd (Age 384)
Lillian Aurawell
Unemployed
Angsty teen /

Goth girl

Human
Unknown (Age 18)
Lola Rembrite
Fashion Designer
Snow bunny /

Fashion Designer

Human
February 23rd (Age 26)
Nora Delrio
Hotel Maid
Caring aunt /

Tomboy

Human
Unknown (Age 29)
Polly Bendleson
Beauty Tuber
Old-fashioned girl /

Classy gal

Human
Unknown (Age 32)
Brooke's Assistant
Japanophile /

Weeb

Human
Unknown (Age 20)
Moxie*
N/A
N/A
Nymphojinn
Unknown
Jewn*
N/A
N/A
Nymphojinn
Unknown
* The character must be unlocked.
Credits
Creative Team:
Ryan Koons - Lead Developer
Kopianget - Lead Artist
Ninamo - CG Artist
Soulkillur - Sprite Artist
Agata Wiejak - Icon Artist
Anthony Pismarov - Intro Art
Keira - BG Help
Velinquent - BG Help
Amber Foxy Lee May

- Zoey Rewrite Help* and original voice for Zoey
Marshmallow Maximus - Nymphojinn Design
B.V. - Nymphojinn Design
usagiturtle - Nymphojinn Design
LUvvUcy - Nymphojinn Design
World of Wandag

- Composer
Aika Intong

- Casting Help* and original voice for Ashley
Brittany Lauda

- Casting Help
Michaela Laws

- Audition Sides
Voice Acting:
Jaclyn Aimee

- Kyu
Amber Leigh

- Lillian
Skyler Davenport

- Sarah
Samantha Brentmoor

- Nora
Krystal LaPorte

- Brooke
Elsie Lovelock

- Abia
Marissa Lenti

- Polly
Sadie Young - Nymphojinn
* Not officially credited.
Trivia
In the art book collection for Huniepop 2: Double Date, all nude sprites of the girls are available to view. However, they are not available to display in-game for unknown reasons.
Unlike in Huniepop 1, players cannot replay the game infinitely and be able to complete the bonus rounds, or sex mini games. Once the game has been completed (after the player has defeated the Nymphojinn, and after all girl pairings have had the final bonus round), the player cannot access another bonus round. There is only a single bonus round for every girl pairing which cannot be played again.
Huniepop 2: Double Date was officially released on February 8th, 2021, but development presumably began as early as 2017. The game took almost 4 years to be released, taking longer than both Huniepop 1 and Huniecam Studio.
Merchandise
Although Huniepop 2 has not received any official merchandise, pre-orders were available from March 10th, 2021 to March 24th, 2021 for a set of acrylic charms made by Huniepop and Huniepop 2 CG artist, Ninamo. Two sets were released that included all of the main girls as well as Kyu and the Nymphojinn which were labelled as "secret character", in a cute chibi-esque style.